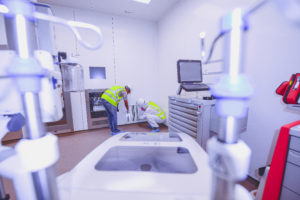 Elite Duct Services was founded 7 years ago and was one of the first few companies in the region to hold NADCA certification and to implement NADCA guidelines and standards. Our mission was to fill a noticeable gap in the industry. Although there were a few companies providing indoor air quality and decontamination services in the region, there was a lack of professionalism and expertise in the field. Proper methodology was not being put into place and international standards of practice weren't being adhered to Using our extensive knowledge, professionalism, and unmatched technology, Elite Duct Services was born.
Elite Duct Services has made its mark in the industry because of the quality of our services. We only work under HOSPITAL GRADE standards. Our team has provided services under the strictest of surroundings such as hospitals and museums. As a customer, you can rest assured that your home and business are in safe and meticulous hands.
How we differ from the competition

Elite Duct Services has worked hard in maintaining an unprecedented reputation as a leader in indoor air quality. Other companies claim to use "state-of-the-art technology", "professional cleaning methodologies," "accredited standards" and "Eco-friendly Products" and have attempted to mimic our procedures. They say that imitation is the best form of flattery; to our competitors, we say that the authenticity and quality of our services can never be duplicated, as we are confident in what we provide for our private and corporate clients.